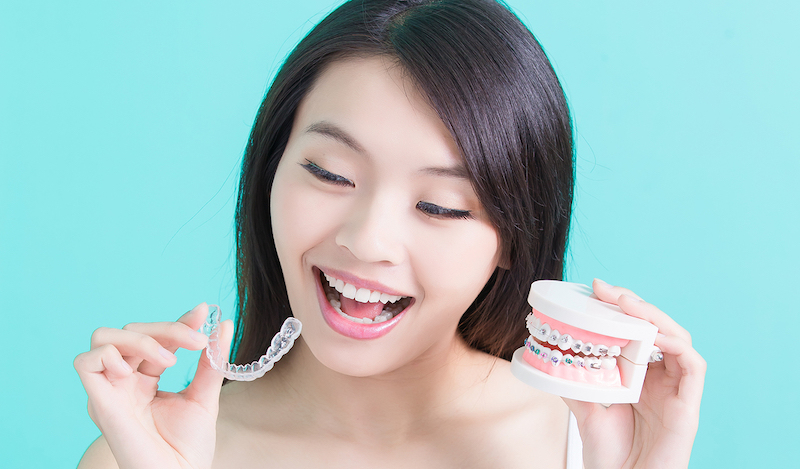 What is ClearPath Aligner? How are they made?
Clear path Aligner system was introduced in 2008 as a new orthodontic tool to treat orthodontic cases instead of the use of wires and brackets. Our clinical professionals have over 10 years of experience in this field.
These are thin clear aligners that are used to correct any irregularity of the contact of the teeth of the upper jaw with the teeth of the lower jaw. Also, they are generally used to correct moderately crowded teeth and not recommended
for children. They are also used in patients who might have had a relapse after a
fixed orthodontic treatment. Clear Path Aligners are transparent or invisible, do not cause any pain, irritation, discomfort or any kind of social inhibition.
Clear aligners procedure at LV Dental Square
During Clear-path treatment, we take a mould of the patient's teeth and use it to create a digital tooth scan, which is then sent to the respective lab. The aligners are then modeled with the help of CAD-CAM (computer-aided-design and computer-aided-manufacturing) software. They are then manufactured from elastic thermoplastic material using a rapid prototyping technique called stereolithography. The moulds for the aligners are made in layers using a photosensitive liquid resin. This resin will then be cured into a hard plastic by exposing it to a laser.
The patient is then provided with these aligners at the beginning of treatment. Depending upon the complexity of the case, the aligners may range from 10 sets to 25 sets. Each set is worn for approximately a period of two weeks for an average of 20 hours daily.
Each aligner usually moves the teeth 0.25 to 0.33 millimeters.
For every next set, a dentist visit is a must.
Advantages of Clear Path Aligners over Clear Braces
Clear path aligners and clear braces are almost the same in nature other than a few differences as mentioned below:
ClearPath is more transparent than clear braces.
Clear Path can be removed while ceramic braces cannot be removed for brushing, flossing and eating.
As trays must be changed every two weeks for ClearPaths, more frequent trips to the dentist is needed. While ceramic braces has to be adjusted every four weeks.
Clear braces can treat more complicated cases when compared to ClearPath.
Clear braces are made of ceramic, which makes it a little brittle.
Clear braces can irritate soft tissue while ClearPath do not.
Severe orthodontic problems usually do not get completely corrected using these aligners. It is mostly recommended for the treatment of mild to moderate cases as well as for patient who is conscious of wearing dental braces due to their occupation or otherwise.
So now there is an effective, safe and clinically proven cosmetic solution that can fix your worry of misaligned teeth. So if you are planning to correct your malocclusion without any social inhibitions or discomfort Clear Path is the right choice for you.
LV dental square is one of the best dental clinics in Bangalore certified to provide clear aligners, Invisalign braces, and other dental treatment.