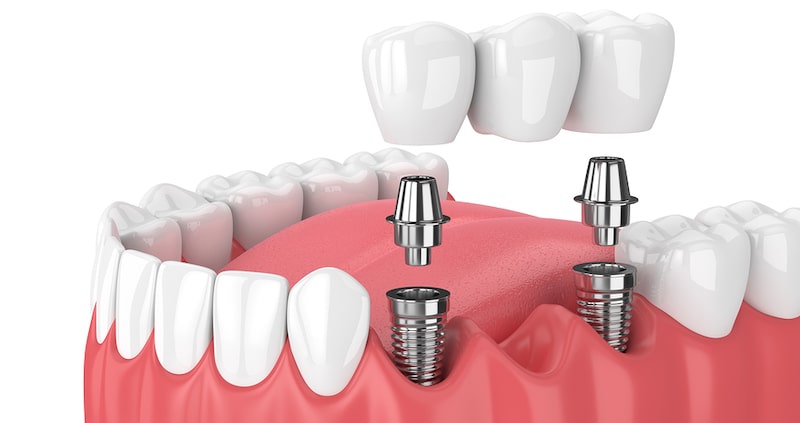 What are Dental implants?
A dental implant is a surgical component that supports a dental prosthesis such as a crown, bridge, denture, facial prosthesis or to act as an orthodontic anchor.

Benefits of Dental Implants
An immediate solution which will be permanent for missing tooth.
Mostly requires single visit to dentist.
Solution that is durable and efficient.
They need not be removed for cleaning and can be treated like normal teeth.
Very little chances of bone grafting.
Much more stable and comfortable than dentures.
How are Dental Implants implanted?
Extracting the existing tooth: Before a dental implant can be inserted the damaged tooth needs to be extracted. This is done at the dental clinic by the dentist and requires at least 2 months for recovery.
Bone graft: The dentist will examine if a bone graft is required to ensure that the jaw can support the dental implant.
Inserting the implant: A dental surgery is required to prepare the jaw for the insertion of the implant.  Once inserted a temporary healing cap is put in place.
Recovering from Surgery: Dental implant surgery recovery may take 4 to 6 months time. During which the bone cells function with the implant in a process called osseointegration.
Attaching the abutment: After the recovery, one more small surgical procedure is conducted by the dentist with the abutment added to the implant. This recovery takes a few weeks.
It is important to maintain the oral hygiene procedure throughout all the steps of dental implant treatment to make sure healthy teeth and healthy gums.
How to take care of dental implants?
Avoid any kind of physical exercise or activity immediately after surgery.
Apply ice cubes to reduce swelling.
Do not rinse or spite on the day of surgery.
Drink a lot of liquid fluids. Avoid hard food and dry nuts.
After a few days, floss regularly.
In case of severe pain take an antibiotic prescribed by a dental surgeon.
Use warm salt water to rinse .
Our super speciality dental care provides the best treatments in general dentistry, orthodontic dentistry, advanced restorative dentistry and many more world-class facility treatments for your teeth and gums.
Our services start from basic check ups to complex oral surgeries. We are among the best dental care clinics in Bangalore. We at our dental clinic recommend a dental implant for a patient with a missing tooth. Our artificial tooth implant is blended perfectly that gives a natural look. We use smaller dental implants which are comfortable and take very little time to time to heal. We have had a success of almost 98% in dental implants procedure and treatment.